About the company
Biuro Handlowe "PROMYK" was established on December 30, 1993 with the aim to develop
specialised products of the highest quality. The strategy employed by its owner,
Mrs Iwona Pankowska, was to design the products according to her own formula and
technology; and to produce them.
Until 2012, the PANX-Yellow Chalk® product has earned superb comments from windscreen
producers in North and South Americas, Europe, Africa as well as Asia.

Biuro Handlowe "PROMYK" wishes is to encourage you to make a decision about ordering the
PANX-Yellow Chalk® samples and thus to persuade you to apply the product in your windscreen
production.
Biuro Handlowe "PROMYK" is a company that is managed flexibly, oriented to the needs of the customers
and welcomes collaboration with customers in the production of new products.
We look forward to your suggestions.
With kind regards,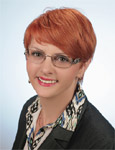 Iwona Pankowska
Biuro Handlowe "PROMYK"
Quick links